October 16, 2020
Posted by:

CENTERSPREAD

Category:

Uncategorized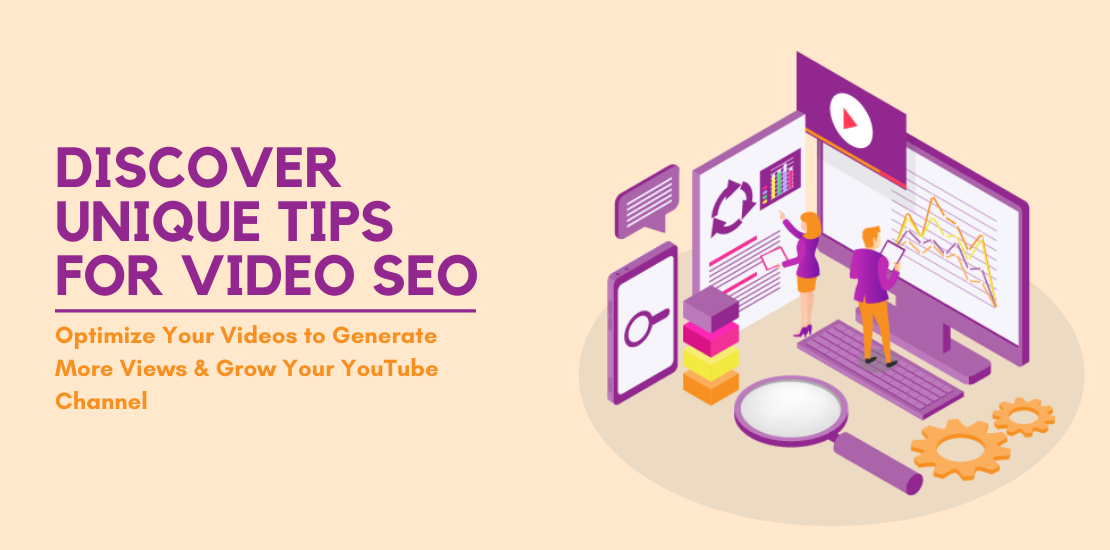 Videos have becomes an essential part of everybody's online marketing strategy. And marketers around the world are leaning towards incorporating them into their respective social media plan. Not only this, but videos have an edge when it comes to user engagement as far as text or even images are concerned. But, just making great or valuable content is not sufficient. Distributing the content and using tips for video SEO is also crucial.
Youtube is a pretty awesome video platform. But, it is a pretty crowded place.
Now, if you wish to make your video stand out among the clutter and improve your SERPs. Then you need to follow these steps and get amazed by the Magic of Video SEO.
Optimize your video title
Create long videos
Master the hook
Interesting thumbnail for video
A descriptive snippet of the video
Increasing user interaction
Keyword Rich Playlists
Adopting keywords during video
Optimizing video keywords
1. Optimize your Video Title:
Now, we are all familiar with this tactic, which entails using the keyword in your video title.
But in order for it to work, you need to be sure of few things. Firstly try and use your keyword at the beginning, it tends to result better.
Secondly, avoid stuffing of unnecessary keywords as Youtube & Google are both smart at identifying them.
2. Create Long Videos:
Youtube like every other platform wants to keep its users engaged and tuned to its pages for longer sessions.
TOTAL WATCH TIME IS AN ENGAGEMENT METRIC AND ONE THAT YOUTUBE TAKES SERIOUSLY.
So, by creating long videos you increase the total watch time a user spends on Youtube, thereby making you Youtube's favorite person.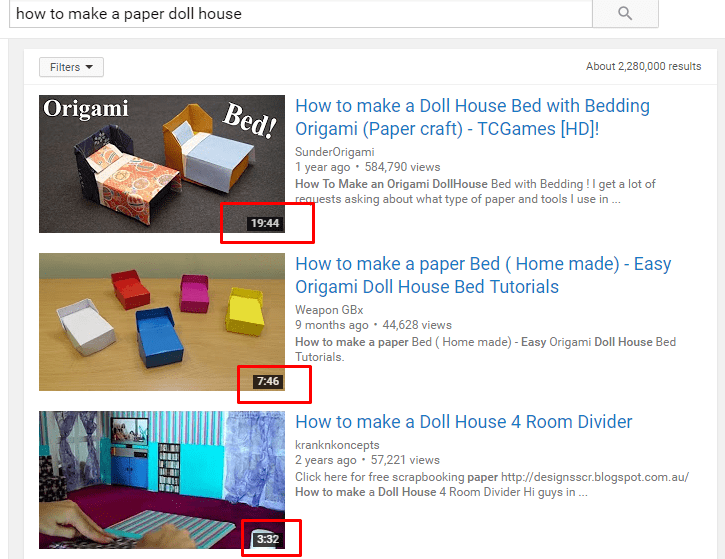 3. Master the Hook:
The internet is swamped with content. This has its benefits as well as its fair share of downsides too.
We all are competing for attention and that too with an audience whose retention power has gone extremely low.
So, in order for viewers to continue watching your video, you need to "Master the Hook".
This is an amazing technique suggested by Brian Dean and one that we have used time and again.
It entails using the PPP formula. PPP stands for "Preview, Proof, Preview". Basically you have only 10-15 seconds to hook the user and make them stay long enough to watch the complete video.
Begin with a direct introduction of the video topic instead of building a long conversation leading up to the topic.
Then provide evidence by a case study or your own example to create trust.
Finally, tell them about the golden nugget you will be sharing towards the end of the video. It can be an amazing offer or a free product or even some extra tips that were not mentioned earlier.
4. Interesting Thumbnail for Video:
This tip enhances your Click Through Rate like anything.
Now, how can the image be attractive? Make sure it has a clear picture of who is the main subject for the video and the background should also be taken into consideration.
Furthermore, if your video has any annotations being used. Put up a thumbnail highlighting that annotation.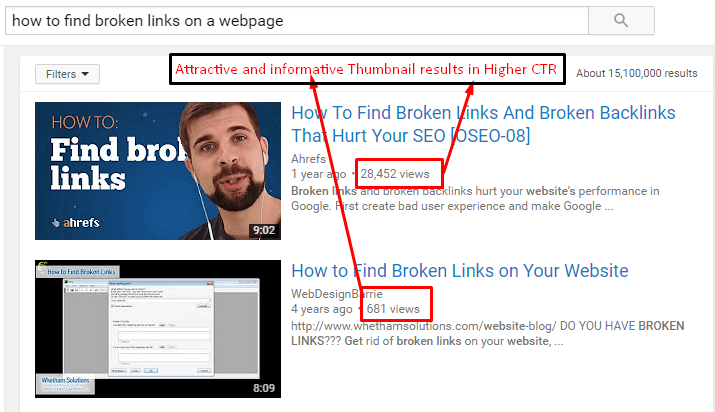 5. A Descriptive Snippet of the Video:
If you want people to click on your video, then give them a solid and logical reason to do so.
Provide a detailed description of what your video is all about and how it will provide value to the user.
It not only provides clear insight about what your video is about but also helps you rank better because of the keywords (long-tail & short-tail) being used in it.
6. Increasing User Interaction:
Youtube probes user interaction before deciding the worth of a video. So, you need to work on getting subscriptions, likes and shares.
How can you do that? There are two ways to do it.
First, simply use annotations, which are literally intended to ask the audience to subscribe, like or share the content.
Secondly, share your content on online communities. But don't be too spammy about it, and paste in your link on every available opportunity.
Try to incorporate it as a value added thing.
Like, join in a conversation RELEVANT to your video content, express your opinion or insight and then very subtlety indicate that if people want more information regarding that particular topic they can do so by checking in your link.
7. Keyword Rich Playlists:
Now, how to harness the videos that you have created for your products/ services?
Present them beautifully in an organized fashion.
Create a channel representing your business.
Upload your videos and when you have more than 10 videos, organize them into playlists.
Then label these playlists with your keywords.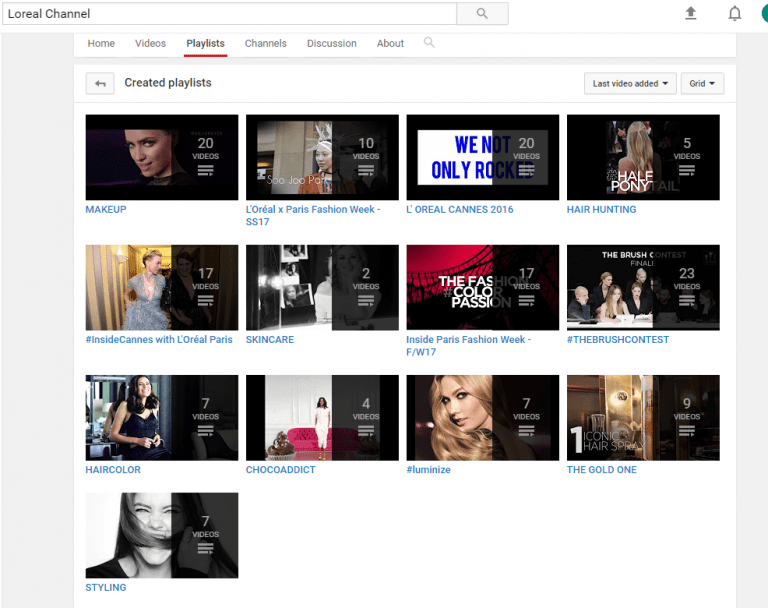 8. Adopting Keywords during Video:
This is something you haven't heard before and it may seem odd. But believe me it definitely works.
Use your keywords (long-tail and short-tail) during your video.
And then make sure those same words are reflected in the snippet, meta tag and title.
This creates a cohesive SEO Optimized unit for you.
9. Optimize Video Keywords:
Let us begin by first understanding about video keywords.
What are Video Keywords?

Video keywords are words which when searched by a user result in video results.
Yep Google is getting smarter by the day. It presents search results based on User Intent.
For example, if you are searching for Cute Cats then Google will display an assorted mix of images, videos and links to blogs regarding Cute Cats.
But if you were to search for blogging, Google would present you with a list of threads containing links to sites providing information regarding the said topic.
Wrapping it up, video optimization will result in higher search rankings not only for Youtube but also for Google as well. So, it's a sensible and fruitful investment of time and energy. Though, you need to do it correctly as well. The bottomline is that you need to find relevant keywords which will yield video results for your product or service, before adopting them.
Tell us what ways you are using to optimize your videos. Leave a comment or if you liked our article, do share it. Sharing is a wonderful way of showing love and support. And we all need it.